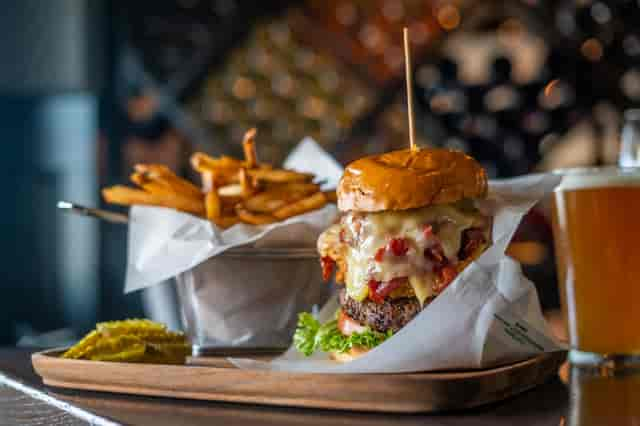 Functions
Plan A Party
Thank You For Considering Stockholders For Your Private Event!

Since opening in 2010, we have been fortunate to host a wide variety of events and gatherings including (but not limited to) rehearsal dinners, baby/wedding showers, bereavement gatherings, church/religious meals and celebrations, birthday parties, holiday parties, fundraisers, social networking groups, business meetings and presentations and large lunch/dinner parties.

Should your special event require the use of a private room, we offer two unique spaces for such functions
The Boardroom
Seats approximately 40 people and is perfect for a traditional seated private brunch, lunch or dinner. The room is also internet-capable for work or business meetings.
The Trading Pit
Seats approximately 50 people and can accommodate upwards of 100 standing for casual cocktail receptions or mingling-type events. The Trading Pit is perfect for casual receptions, cocktail parties and birthdays, fundraisers, networking groups and any kind of large gathering that requires space for moving around. The room is also internet-capable for work and business meetings and large enough to set up any necessary A/V equipment such as projectors and screens. The room is also suitable for seated meals for groups larger than the capacity of the Boardroom.

Every event is different and we treat each event or gathering individually and work with you to customize the perfect function to meet your unique needs. As each party is different, feel free to contact us at any time with questions or to discuss your specific needs. Below are answers to some commonly asked questions surrounding private dining at Stockholders.
What Kind Of Function/Private Dining Menus Do You Offer?
We can customize a menu to your specific requirements and can offer several different formats and styles including traditional plated/sit-down meals, passed appetizers, appetizer buffets, lunch/dinner/brunch buffets, and cocktail receptions. The most commonly selected menu items can be seen in our "Private Event Planning Guide."
Is There A Room Charge To Use Your Private Spaces?
Under most circumstances, there is no room fee. Please refer to our "Private Event Planning Guide" below for additional details.
Is There A Minimum Guest Count Needed In Order To Reserve A Private Room?
Generally speaking, there is a 20 person minimum to reserve a private room. However, there are exceptions to that rule under some circumstances so calling us directly is always best.
I Was Told That I Need To Provide A "Guaranteed Number Of Guests." What Does This Mean?
In order to be prepared in terms of staffing, setting the room and preparing your menu, it is necessary for the manager and chef to have an idea of how many people will be attending your event. Keep in mind that this guarantee must be at least 20 as that is the number required to have a room held privately. As it pertains to buffet-type events that have guests coming and going throughout, such as bereavements, the guaranteed number of guests can be difficult to solidify as you never know who will join you and who will not. Under these circumstances, we ask that you try to come as close as possible with a reasonable estimate of guests that you expect to join you. It is important that our chef have a realistic number of guaranteed guests for buffet-type events as many of the items for the buffet will have to be prepared before the guests actually arrive. If the chef is given a much lower number of guaranteed guests, there surely will not be enough food prepared. Please read the "Private Event Planning Guide" for additional information.
How Do I Reserve A Private Room?
Contact a manager here at Stockholders to make a reservation. There is a $250.00 deposit to hold the room that will be required at the time of making the reservation. This deposit will be credited back to you on your final bill. We ask for 48 hours notice of cancellation of your event or the deposit will be non-refundable. If no deposit is received, we cannot guarantee the room will be private or available to you.
I Cannot Find What I Am Looking For On Your Function Menus. Can You Customize A Menu For My Event?
We are always willing to work with you to provide exactly what you are looking for in terms of food and menu offerings. If you do not find what you are looking for as your peruse our private dining menus, do not hesitate to inquire of our manager regarding customizing a unique menu for your unique event. If we are able, then we will certainly accommodate as many of your wishes as we can. We understand that each event is different and we treat each event as such. Let us help you coordinate the perfect event!
When Do You Need My Menu Choices?
We ask for your final menu selections, as well as a guaranteed guest count, at least one week in advance of the date of your event. There are exceptions to this rule such as when events are planned on very short notice.
How Much Notice Do I Need In Order To Reserve A Private Room?
If our private room is available, you can reserve it at any time and with as little as a one day notice (restrictions apply.) There may be instances which will require us to have more notice but it never hurts to call us to inquire.

Our various private dining menus as well as additional details about private dining can be found in our "Private Event Planning Guide" by clicking on the link below. Call us at 781-335-3100 to inquire about private dining or functions. Our managers will provide a tour of the private rooms and help with the planning of your event to make your experience a memorable one!